>> Custom Homes

CTS Engineering has provided structural engineering services on custom homes constructed in alpine environments since 1995. Each structural system is unique unto itself to allow the building's vernacular to be achieved without sacrifice. The following links will provide you with brief pictorial and verbal summaries of some structures we have engineered.
Project: Private Residence, Park City, Utah

Client: Jack Thomas Associates, P.C.


Need description from Joe!

Services: Structural Engineering.
Picture Gallery:
Project: The Feidt Family Cabin, Brighton, Utah

Client: AmerINDIAN Group. Dan Feidt, Architect


Two level, 4,600 square foot, exposed heavy timber frame construction cabin. Design also incorporates hot rolled steel beams, shear walls, braced frames and cold roof construction techniques. Engineered for 270 psf ground snow load and Seismic Design category D.

Services: Structural Engineering.
Picture Gallery:
Project: The Fuller Residence, Grizzly Gulch, Alta, Utah

Client: MFDS. Michael Fuller, Architect and Owner


The three level, 6,000 square foot reinforced concrete home is designed to withstand the impact of forces of snow avalanches and seismic zone 3 earthquake forces in addition to anticipated 200 pounds per square foot snow loads. The front glazing spans 28 feet from floor to roof and is designed to withstand 100 pounds per square foot horizontal loading loads. A cantilevered stair and walkway span the great room, providing access to third level bedrooms.

Services: Structural Engineering, Avalanche Hazard Analysis
Picture Gallery:
Project: The Thomas Residence, Holladay, Utah.

Client: Nick Schou Architect


This 6500 square foot home was constructed as a replica of the owner's grandparent's house, which was on the site but had to be demolished. The architecture is designed to express the Spanish vernacular of the original house. An addition was also added to the south end of the structure, and a an exterior courtyard links the main house to an existing pool house. The house included wood framed seismic details to improve ductility and performance of the lateral load resisting system.

Services: Structural engineering
Picture Gallery:



Project: Levanthal Residence, Summit County, Utah

Client: Jack Thomas and Associates


The 17,000 square foot main house and 2,800 square foot guest house each presented unique structural challenges. The main house is a timber framed structure with steel bolts and side plates connecting the reclaimed trestle wood timber frame members. Lateral loads are resisted by moment connections integrated within the timber frame. Roof and floor framing members are composite wood sections.

Services: Structural Engineering
Picture Gallery: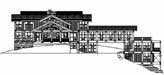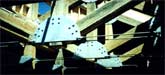 Project: Levanthal Residence, Guest House

Client: Jack Thomas and Associates


The guest house is a 2,800 square foot structure ancillary to the main house. Built into the hillside and retaining 25 vertical feet of soil, the structure provides enough structural capacity for landscaping on the roof. The building is constructed with a concrete bearing wall, shear wall system, concrete and steel framed roof and floor. Interior trestle wood columns on the upper level support the roof loads.

Services: Structural Engineering
Picture Gallery:

Project: Dyer Residence: The Preserve, San Miguel, Colorado

Client: Cottle, Carr, Yaw Architects


Wood framed multi-level 6,000 square foot home. Designed to express the architect and clients desire to create a unique structure including a eight foot exterior cantilever supporting floor and roof loads; a steel truss spanning 48 feet designed by CTS with channel shaped chords and tube steel webs. The home also features a detached garage with flat plate roof sloping across the primary bearing lines at a 1 in 12 slope.

Services: Structural Engineering
Picture Gallery: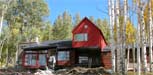 Project: Haas Residence, Aspen, Colorado

Client: BCS Group


The new single family residence is built on the eastern end of The City of Aspen just off of highway 82. The house looks out on to wilderness areas including mountain ranges and high altitude marshlands. The architect, Chris Beebe meticulously integrated the houses's floor plan, and site elevations to parallel the wetlands lapping at the building's edges. Timber frames supporting the roof framing over the great room are two story's in height, allowing the exterior beauty of the site to embrace the warmth of the home.

Services: Structural Engineering
Picture Gallery: